InSight Mobile Data Announces Strategic Partnership with doForms
California, MD (PRUnderground) July 27th, 2015
InSight Mobile Data has been providing innovative mobile resource management (MRM) solutions for nearly 20 years to a variety of markets including construction, utilities, emergency transportation, fixed route transit and waste management. Now, in addition to offering superior MRM capability, InSight's StreetEagle® solutions platform will include a completely integrated, advanced mobile forms component through its partnership with doForms.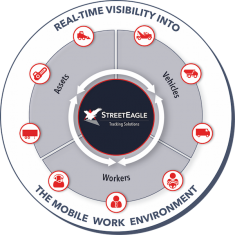 "The expansion of InSight Mobile Data's StreetEagle software platform to include an advanced forms application was driven by our customers. They asked us for one solution to manage vehicles, assets, workers and mobile forms – and now, through our partnership with doForms, we can handle it all," stated John Eller, President of InSight Mobile Data. Now, organizations of all types who are striving to eliminate paper from their work flows can have the power of doForms fully integrated into StreetEagle.
"Partnering with doForms was an easy decision for us. We have a long track record of integrating with best of breed software solutions and doForms is the recognized leader in mobile forms technology," Mr. Eller continued. "A lot of new, innovative forms companies have emerged on the scene over the last several years, but none of them can match their power and flexibility."
In StreetEagle, InSight Mobile Data has built an advanced GPS tracking solution that connects operations, workers and customers to provide total visibility into the mobile work environment. By integrating an advanced mobile forms application powered by doForms into the platform, InSight can now provide that same visibility into forms activity to significantly improve both efficiency and customer service.
"The combined product brings together two best-in-class solutions under a single offering. Moreover, InSight Mobile Data is a great fit culturally, sharing our commitment to providing responsive, real-person support and creating intelligent, easy-to-use products that make it easy to go mobile," said John Darienzo, CEO of doForms. "We look forward to a highly successful partnership."
About doForms
doForms, Inc., is a leader in mobile forms software. It enables companies to easily capture information in the field on smartphones and other mobile devices, send it via the cloud back to the office – and seamlessly integrate that data into existing systems and applications. Because it reduces paper flow and the need for expensive manual data entry, doForms saves money and time, while improving responsiveness and customer experience. Thousands of users in companies of all sizes use doForms to streamline field data collection and increase real-time operational control: www.doforms.com.
About InSight Mobile Data
InSight Mobile Data develops innovative, flexible fleet management, asset tracking and mobility solutions that provide real-time visibility into the mobile work environment. For nearly 20 years, InSight has remained independently operated and employee-owned to preserve a uniquely close and collaborative relationship with our customers, designing customized solutions to meet specific business needs. InSight's StreetEagle® solutions platform provides the ability to capture, analyze and integrate mission-critical data from ALL mobile assets – vehicles, equipment and workers – in one fully configurable and user-friendly service. www.insightmobiledata.com